Why Digital Marketing Is Important for Every Business
Now a days the internet and social media have played a vital role for an artists to share their work for a business man to get more audience
In today's modern world Social Media is very quickly and effectively become one of the most important aspects of Digital Marketing and if you Yes You are not applying this profitable source You are missing out an Incredible Marketing Opportunity
As it plays a very important role to make the world hear about your mission
5 Amazing Hacks to used social media effectively in your business
1. Connect with your Customers
Currently about 2,789 million to be exact are on Social media
It's true that you can always reach new customers on social media.
It's nearly impossible to run a business and keep up with every social media channel every single day.
So that's why it is very important to concentrate your efforts on popular social media platforms
First focus your time and effort on Facebook, Twitter, Instagram, and LinkedIn.
Consider your company and brand when deciding which ones to use.
If you aren't visually-focused, consider sticking to Facebook, Twitter, and LinkedIn.
After all, Facebook is still the king of social media despite what some social media influencers say.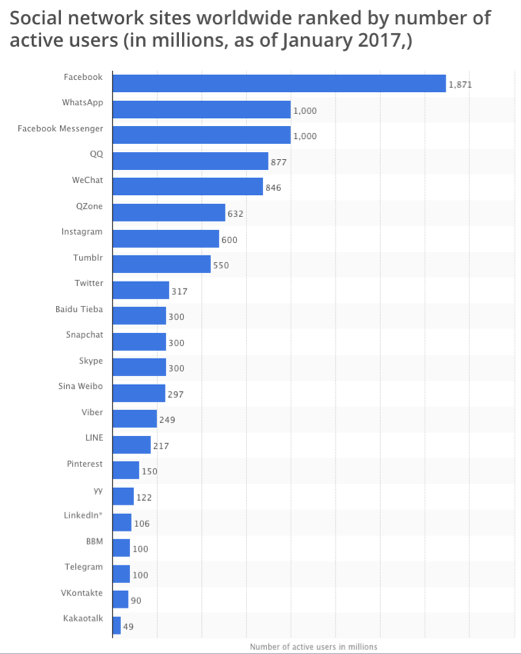 2. Always gather related info about your topic
After you've searched the related content,Now its time for you to start compiling content to share.
Sharing your own content is the biggest achievement.
That's the only reason people are following you.
But only sharing your own stuff can make things little bit outdated.
You must got into the situations where you cannot have enough information
For example, half of the biggest brands post at least ten times a day on Facebook,Instagram and twitter. That adds up to 900 posts on these platforms!
You must just dig in to your competitors posts and content and make your self completely up to date
Feedly is one of my Favorite platforms for finding related stuff about the particular niche .
3. Optimized your images for all social media platforms
Different Social Media platforms have different requirements of image sizes.
So don't need to worry about .Canva has just made our life easy and provide the image sizes according to the different social media platforms
With just one click you have choosen the image sizes you want for your post
4. Influencers are waiting for you
Tweet deck is a great platform to find out exactly how much influence a twitter user has.
When people want to pay attention to what someone has to say, they put them on a Twitter list, but it's not easy to
see how many lists an influencer is on.
TweetDeck allows you to find Twitter users and see the number of Twitter lists the person is on.
If both the number of lists and the number of followers is high, then you have found a good influencer!
5. Mobile Friendly Experience
Did you know more than 60 % of the website traffic is coming from the mobile phones
Consumers now check reviews, compare prices, and even purchase online through their mobile devices.
So you'll have to beef up your website for a more mobile-friendly experience. Here's how:
• The text in your website should be visible inside mobile view.
• Actions button must be eye catching.
• Website Speed Optimization effects a lot
• Check your website performance with various tools
The tools which i used and also recommend every buddy out there to use these Two Optimization Tools